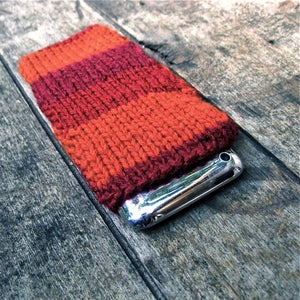 $

6.00 - On Sale
Order this lovely hand knit iPod/iPhone Snuggle by Ramona.
This little device protector is perfect for Fall and will even work great for smaller cameras!
The piece measures about 2.25" x 5.5" stretches to fit snugly on you iPhone/iPod Touch.
It can also be stretched to to fit cameras about 1'' thick, 2.25" wide, and 4" long.